Bella Vita Medi Spa is an expansion of our well-known Salon and Day spa.  Our idea is simple yet innovative – to provide a luxurious, but professional atmosphere for our guests' convenience. Under the medical direction of Dr. Ryan Scannell, Bella Vita is able to offer the most advanced facial regenerative solutions. These include targeting problematic skin concerns, anti-aging questions, and hair restoration with Platelet Rich Plasma. We embrace an aesthetic approach to medical procedures that are performed with the utmost care and attention to detail.
Dr. Scannell provides Bella Vita's valued clients with facial rejuvenation services, focusing on Rhinoplasty, and is dedicated to offering unparalleled patient care, with the explicit goal of producing natural, age-appropriate results. His partnership with Jennifer Hartley R.N. of J | H Aesthetics allows him to focus primarily on surgical procedures, lending Jennifer the time to focus on regenerative aesthetics. You may visit their website at: https://www.neentfacialplastics.com or call:
978.376.8605 Dr. Ryan Scannell – Direct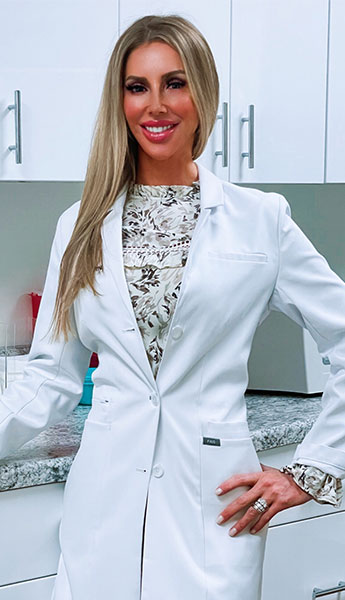 JENNIFER HARTLEY, R.N. / J | H AESTHETICS
Jennifer began her career in healthcare in 2010, as a CNA where she developed an affinity for nursing care. She entered into Facial Aesthetics in 2014 after completing her BSN from Regis College. She brings years of clinical experience in Cardiovascular, ICU and Surgical Nursing and a dynamic ability to provide individualized patient-focused care. She is passionate about Facial Aesthetics, skilled in the administration of bio-stimulatory and HA fillers, neuromodulators, and anti-aging procedures including: lasers, plasma IQ and silhouette Instalift. This foundation has given her the ability to broaden her scope of practice including embracing the role as an Aesthetic Clinical Educator for Suneva Medical and Sinclair Pharma since Feb. 2019. Jennifer is committed to making a strong human connection with all of her patients. She prides herself in providing individualized care during each consultation and listens to the personal concerns of her patients.  
We are delighted to add Jennifer to our trusted list of medical aesthetic providers. You may call her directly at 508.416.0845 to schedule your regenerative-aesthetics visit.